Want to gain an understanding of the Heggerty program and its benefits?
Dates:  September 8 or November 3, 2022
Time:  3:30-5:00 pm
Audience:  All interested teachers with a Kindergarten & grade 1 focus; Learning Assistant Teachers; Resource Teachers
Location:  District Development Centre located at SD 60 Board Office
Facilitator:  Anita Yorke, District Literacy Support Teacher
Registration:  Please email ayorke@prn.bc.ca to register or if you require further information.  Registration closes at 4:00 pm the day before the session.
Please click on the link below for further information: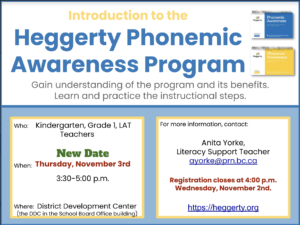 Heggerty Training_ new date, November 3rd.