We are sharing an opportunity from Logics Academy and Mission School District. School District 60 has Minecraft for Education Edition licenses for students in K-9 and teachers available. Contact your technician about options to get the software loaded onto school computers, ipads, or chromebooks. You can download Minecraft for Education Edition at https://education.minecraft.net/en-us/get-started/download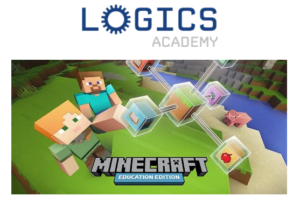 Logics Academy is offering an Introduction to Minecraft training session hosted by Mission SD in BC. All are welcome and we encourage you to invite your teachers to the training.

We emphasize that Minecraft is a teaching tool. You can teach the principle's of coding and computational thinking with Minecraft. We show you how great Minecraft is and that several students already know Minecraft and how that helps make it easier for you to teach coding.

Feel free to share this email with your teachers to encourage registration to these workshops.

Session 1: January 24th at 3:55pm MST

Topic: Learn How to Teach Using Minecraft!
Session 2: January 27th at 3:55pm MST
Topic: Introduction to World Management & Assessment Tools
Register even if you can't attend to receive a recording of the session!
This training is designed for teachers teaching grades 4 to 8.