School District No. 60 has put together a week of optional professional development opportunities for teachers the week of August 30 – September 2, 2021. Please click on the link below for a the lay-out of the week, types of workshops and registration processes.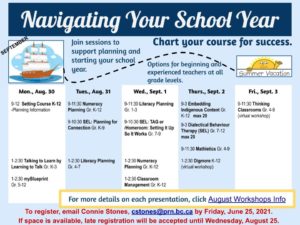 For details & information about all sessions: Overview of Workshops
ALL registrations need to be sent to Connie Stones at cstones@prn.bc.ca.  Specific questions about workshops can be directed to the facilitators which are included in the workshop descriptions.
Early Registration:  June 25, 2021
Final Registration:  August 25, 2021
Locations and confirmation with be emailed to participants in late August prior to the workshops.