These are some notes for our various Site Editors to help them in creation of posts on this website about Professional Development Activities for SD60 Community Members
About a new opportunity post
Your Post must have a Title that includes
A short descriptive title
After the descriptive title include a dash and the date or a dash and the word Series if there are multiple dates
The body of the post should include
A session description
Date:
Target Audience
Time
Location
Hosted by
Registration Deadline
Registration Contact (include relevant info like name, email, phone)
Posters are an engaging way to attract attention to your session. They can be included as an image or a PDF to download. Please make certain to include text with the above details in addition to the poster as the text is searchable and supports accessibility for those with a visual impairment using the site.
Categories
The website works well only if editors select the correct categories for their post. You can select multiple categories for your post. These include the Month(s) it is being held, Series if there are multiple dates. There is a post category for PRNTA as well if it is related to the PRNTA Pro-D committee opportunities.
At the end of the year all categories will be cleared off of posts and only the Past category will be selected for them. This will move them out of the current year and into the Past Opportunities category.
Images in Posts
Images can be included in posts through the usual WordPress upload process. They must be public domain, or free of any copyright issues. If in doubt, don't use them please.
To Log in (click on the image for a larger version)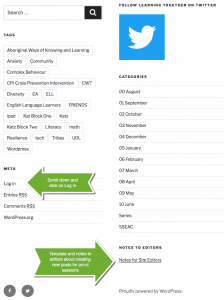 To Create a New Post or Edit an Old One (click on the image for a larger version)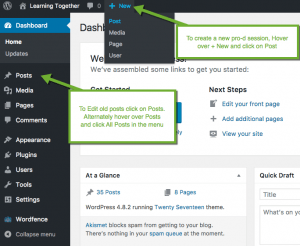 Create a new post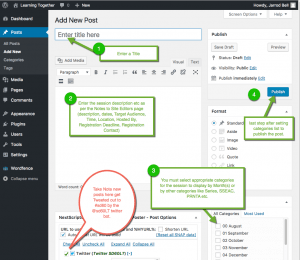 Edit an existing post