Plotting Your Course is a week of optional workshops for teachers, new, experienced and TTOCs. As well, support staff  is welcome to attend. The week offers a variety of curriculum areas as well as workshops about Social Emotional Learning.  Registration and questions can be directed to learningservices@prn.bc.ca.  Specific questions about the workshop can be directed to the facilitator.  Detailed information is found in the documents below.
Deadline for early registration:  June 30, 2022
Final Deadline for registration:  August 24, 2022
Please note that all participants will receive email confirmation with location information prior to sessions.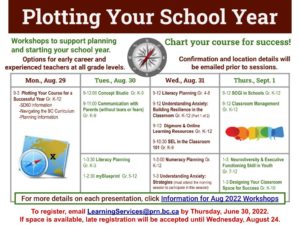 Final poster 2022 Aug Plotting Your Course (1)
Access the detailed descriptions of workshops, times, dates & registration information by clicking on the link below;